Tuesday, April 12th, 2011
---
1:11 pm
I want to be a positive influence on someone's life.
Saturday, January 16th, 2010
---
11:27 am



This is a result in me being unorganized and procrastinating to clean my room.

I have at least 10 nametags.
After only working there for about a year and 8 months.
Which is a big no no on my part.
I started taking advantage of the free nametags at work.
It used to cost 5 bucks a piece but now they're free so I have the mindset of "Oh. I don't need to take care of my nametags!"
I'm glad I found my nametag with my language and year pins.
(The second from the top)

I can't wait 'til I go back to work.


Erika organized a Universal Studios trip with the Disney kids.
As a "Come back to work soon!" or a "Welcome back!" get together party thing.
For me.
I have my (I swear to God on this one) LAST appointment with my doctor next Tuesday.
So hopefully, I can go back to work next week.
Either way, I think Erika's a kickass friend for planning this whole thign for me!

I'm glad to have a friend like her!
=)
Sunday, January 3rd, 2010
---
12:18 am
- New Year's Resolutions!
Happy New Year, Livejournal!
Here are some of my New Year's Resolutions.

1.) Fall in love with myself cos you can't fall in love with anyone and find true love without loving yourself first.
2.) Lose atleast 30 pounds. By summer. I'll get in shape in time to go to Japan for the first time in 8 years.
3.) Keep my weight down 'til Christmas '10. Lynn promisedto buy me a new pair of pants if I keep my weight down 'til then.
4.) Get a second job. I love working at Disneyland and everything but it's too far.
5.) Save up for a trip to Japan for me and Lynn. Well, I think kei and I are going to split the cost of Lynn's trip since we both work and she doesn't.
6.) Train to join the Air Force. I'm planning on joining this year if I can get a medical waiver.
7.) Study Japanese like crazy. Kanji. Must. Die.
8.) Get started on my portfolio and finish my GEs so I can apply to design schools to become an architectual designer. If the whole Air Force thing doesn't happen, I'm going to make a childhood dream of mine come true.
9.) Quit being stubborn. (That's just like telling someone to stop breathing...LOL.)
10.) Keep a journal. Not an online one but an actual one.

I suppose I will add to the list when I make more resolutions!

I hope you all had a safe and wonderful New Year's!
=)

current mood:
hopeful
Friday, December 11th, 2009
---
9:57 pm
- =/
Monday, November 30th, 2009
---
4:13 pm
- NEXT WEEK!!!
PRINCESS AND THE FROG IS COMING OUT NEXT WEEK!!!!!!!!!
Holy cow I'm excited!!!
The soundtrack is AMAZINGGGGGGGGGGGGGGGGGGGGGGGGG!
Friday, November 27th, 2009
---
6:53 pm
My first shift ever in about 2 months tomorrow!
I'm at Splash.
My home sweet home!


Oh!
What does this(E-STOP) button do???


Hahaha.

Can't wait!
9:29 am
- Glee!
I'm fucking obsessed with this show.
I wake up at 7 in the morning on Thursdays just to watch it on Hulu.
Since we don't got a working TV in the house.
I watch it again with my sister when she comes back from school.
And watch it again with my brother when he gets back from work.
And watch it atleast 2 other times during the week.
Yep.
I watch the same episode atleast 5 times a week.
(I think I've seen Wheels 10+ times.
My favorite episode so far.)

Kei and I quote lines from the show.
We sing the songs.
Predict what's going to happen in the next episode.
Do some chracter analysis.
We talk about Glee at the dinner table.

I don't think I was this obsessed with Hana Yori Dango.
And I thought that was pretty bad.
LOL

current mood:
amused
Wednesday, November 25th, 2009
---
11:47 am
- Toto-Feitz!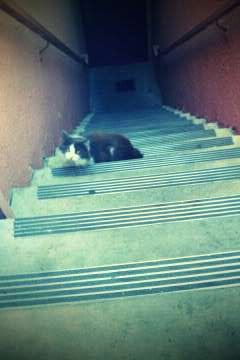 I think she's helped me a lot more than I expected her to when I got hurt.
She slept with me everynight.
She heard me yell profanity when I was in a lot of pain.
She let me cry on her tummy when I was frusterated...which was often.
She made me laugh by making weird faces.
When I got better, she'd bug me to take her out on walks.

I'm truely blessed to have her as a part of the family.
=)
current mood:
amused
9:05 am
- And we bake and bake and bake.
My sister and I went to bake at the Grands' after she came back from school yesterday.
Being the immature kids we are, we decided to make wiener shaped cookies!

Picture of the cookie NSFW.
http://twitgoo.com/5b59x
Going to give that one to Ryan.
Hahaha.


Happy birthday to my father!
He would've turned 53 today!
*Dances*

Going to the doctor's today!
It's about time!
Sunday, November 22nd, 2009
---
8:30 am
- NORTH HIGH, THE JUDGES ARE READY.
Congrats to the Saxon Regiment for getting second place in championships!
Only .31 away from first!
Which a World Class band took.

Good season, Saxons!
Good season!

This is the furthest they've gotten under Cooke.
I rememebr my Sophomore year, which was Cooke's first year, I wanted tot hrow my trombone across the frickin' room because I honestly thought it was a joke.
I don't think this happened because of Cooke, TBH with you.
It was maybe about 90% Koh, the marching instructor.
Met hima c ouple of times and he reminds me of my music theory teacher, Mrs. Jensen.
He teaches the kids life lessons and how to march at the same time.
Haha.

Well, enough with the band geek talk.



Checked my schedule online today and it said I'm on MLOA the whole week.
Ugh.
Need to talk to the scheduler.
I'm going back to work on Wednesday, dammit!
Sunday, November 15th, 2009
---
7:10 am
Thursday, November 12th, 2009
---
4:13 pm
- 3rd attraction
I'm getting excited!
Erica got Canoes as her 3rd and she's getting trained on the new schedule so that means I should be getting my 3rd soon!
I hope Erika and I get Big Boats together!
I want something out on the river.
It's bus able.
Earliest shift is 10 AM latest is 1830PM.
And I get a shot at being a show boat driver.
w00t!
Monday, November 9th, 2009
---
4:05 pm
- Air Force/Mother
Made an appointment to talk to an Air Force recruiter next Tuesday.
See what he has to say and what not.
He said my asthma might be a disquailfier.
Let's hope it's not...
I really want to join.


My mother went completely ape shit yesterday.
She fucking flipped cos we ate the food she brought back from breakfast.
Kicked us out of the house.
Last night when Kei and I came back from church, Lynn and Mom were fighting again.
I know my mother physically assulted Lynn because Kei had to go stop her.
If I find ANY marks on Lynn when she comes home from band, I'm going to have to do something.

I'm sick and tired of her giving me shit like, "The only reason why I'm still alive is because you guys pick me up when I'm down. Blah blah blah. I love you guys more than everything in the world put together! Blah blah blah blah blah."
I'm starting to believe that she's full of lies.
If she says that shit, why does she treat us the way she does?
I tried taking everything she said seriously but nothing, absolutely nothing, adds up.

Sometimes I hate my father for dying.
If he was still here we wouldn't be so fucked up.
My mother wouldn't have been this crazy.

I would so move out and take Kei and Lynn with me if I had the money.
Right now, I don't even have money for food.
I haven't eaten all day...

current mood:
depressed
Saturday, November 7th, 2009
---
10:01 am
Holiday discount this year is 50% at the House of Mouse!
I guess I will be buying a new set of Holiday ears this year!
I hope they have cute ones out!
=)
8:04 am
- =) =) =) =) =)
A month and a tiny bit 'til Princess and the Frog comes out!!!
I've been meh about most of the new Disney films like G-Force(What the fuck was that about?) and Hannah montana the Movie.
But I've been counting down the days for this movie!
The panel discussion at D23 for this movie was PACKED.
We had a little over 200 on stand-by.

And we have Tiana's Showboat Jubilee on the River of America in New Orleans Square so I'm so frickin' excited!
Just saw the WDW version of it on Youtube.
Good stuff!!!

current mood:
excited
Thursday, November 5th, 2009
---
8:51 am
I can't find my nametag with both my language pin and my year pin on it.
Costuming didn't have it either.

Damn.
Wednesday, November 4th, 2009
---
8:23 am
昨日おばぁーに「ミツワに行く?」って聞こうとしたら間違って

「おばぁー。ミツワに行くかー?」って言ってしまった。

=__=
Tuesday, November 3rd, 2009
---
2:32 pm
- Fur baby!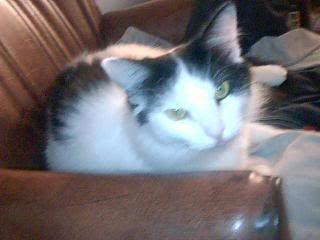 Name's Chibi.
She eats rubber bands.
Always have to dig them out of her mouth.
I don't know where she gets them from.
And she talks to the wall.
Scary stuff.
Sunday, November 1st, 2009
---
2:44 pm
- Wat a pleasent surprise!

I have a SCHEDULED Splash shift on the next schedule!
I got me luberjill costume all ready to go in my closet!
I'm so excited to start working again!
Yay!!!
Saturday, October 31st, 2009
---
10:52 am
- One more thing...
I CANNOT BELIEVE I MISSED HALLOWEEN TIME AT WORK THIS YEAR.
THE WHOLE FLIPPIN' THING.
I WANTED TO WATCH THE PYRO.
I WANTED TO GO ON GHOST GALAXY.


Funny thing is I had so many chances to go to the Cast Preview for both of them but I was like...Mehhh...I'll come during the season when I sign people in!

Ugh.
Well, atleast I got to see the Youtubes of the pyro.

And I'm going back in time for the Holiday Season!
My favorite time to workkkk!!!